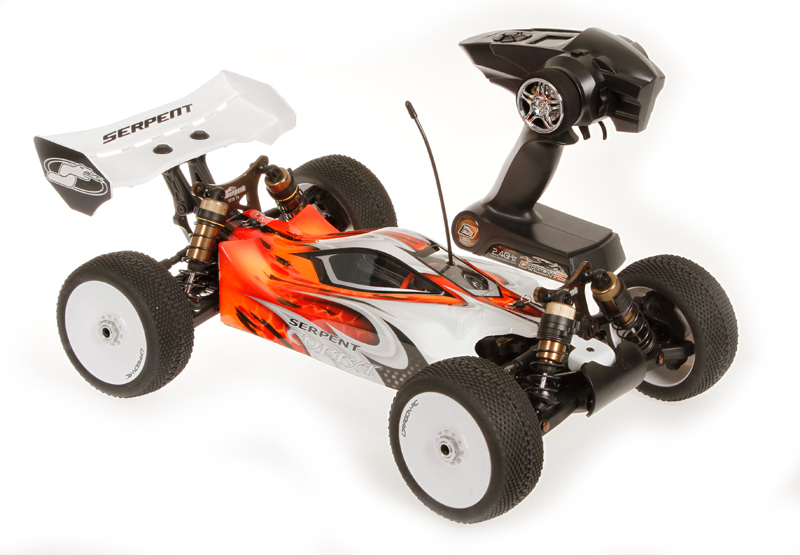 Serpent Cobra Buggy RTR EP 1/8
Serpent Cobra 811 Be Buggy RTR EP 1/8
Cobra E-Buggy Ready To Race 1/8 ElectricPowered The RTR version of the successfull high end Serpent 1/8 Cobra Buggy. Complete with DragonRC 2.4 radio, metal-gear servo, brushless motor, waterproof speedo, prepainted-precut body and premounted offroadtyres 4-wheel-drive, 3 geardiffs, 16mm bigbore shocks, aluminium shocktowers and chassis, easy radiobox, sideguards, low batteryboxes, rear wing. Fully upgradable with parts and options from the high end race-version. This super durable Buggy chassis allows a great entry in the racing scene, at a lower cost, and will make you finish your races !
Περιγραφή
Serpent  Cobra 811 Be Buggy RTR EP  1/8  4wd   

Main features
- race ready high performance electric ⅛ buggy
- expert pre-assembled and pre-set
- 4wd with cardanshafts, 3 compact ,durable geardiffs, super-easy machined alumiunium motormount, superlow longtudinal batteryboxes, compact speedo-servo mount, unique angled steeringsystem, 16mm bigbore shocks, ballraced anti-roll bars FR and RR, 7075 T6 alu shocktower FR and RR, durable suspension and transmission parts, captured supension pins, the works !!
- Dragon-RC pistol type transmitter 2.4 GHz with large LCD screen  
- Dragon-RC 120A waterproof speedcontroller
- Dragon-RC powerfull 1650kv brushless sensorless motor
- Dragon-RC 10.5kg strong servo with metal gears
- Dragon-RC high grip premounted racetyres and wheels
- prepainted and precut ultra low Cobra bodyshell and large nylon rear aero-wing
- full color user manual and decalset included

Introduction

Serpent now offers the Cobra E-Buggy also in a Ready To Race, to make this superb car even more attractive to a broader customer base, so also Hobby racers can now join in for the action.  Serpent already offers the Cobra Be Sport as entry level kit,  but this RTR version includes it all.

Topquality components packed in a Ready-to-race package, the best start a Hobby-driver can make.

High end racing chassis with top quality parts, impressive 2.4 GHz transmitter with nice LCD screen and easy menu, Waterproof electronic speedcontroller with smal footprint, which fits the E-buggy holder like a glove combined with a strong 1650KV brushless motor with lots of torque.  

Features    

Transmitter and receiver
The DragonRC pistol type transmitter comes with a nice large LCD screen, which makes is easy to select through the easy menu's. The small and light receiver is fitted inside the radiobox of the car.

Speed-controller
The electronic speedcontroller is a fully Waterproof 120A unit from DragonRC with a small footprint which fits the Cobra like a glove. The new modern design is very small and attractive looking. Topquality soft silicone covered cables.

Brushless motor
The DragonRC brusless sensorless motor is a strong 1650kv unit which gives lots of torque and amazing topspeed. , and is anodised in same bronze color as the other alu parts of the car.

Chassisplate   
Chassisplate in  3mm  7075 T6 aluminium. Kick-up angle on front  for stabile landings.  Countersunk holes.   Slots to locate the  front and rear suspension mounts precisely.  Angled sides to increase stiffness.  
   
Bumper    
Aligned with chassis  kikc-up for precise landings and to protect front suspension holder and anti-roll bar.
   
Chassis stiffners   
Composite  stiffner front and rear, to give extra stiffness, but still allow some flex as needed.   
   
Central radio / servo mount   
Composite compact radiobox which offers good space for the  steering servo and the receiver.

Battery-cases / side-guards
The main eyecatchers are the extremely low laydown longtudinal placed battery-packs at each side of the car, being part of the side-guards, securely fastened with a fliptop-lid, for easy and fast battery changes. The weight low in the car and in the right position, well balanced. The Lipo holders comply with ROAR legal packs / dimensions.

Motormount:
The motor is placed in the most optimal position in the car, keeping motor-forces and transmission parts / alignment in mind.  Only one-screw  is needed to secure  the BL motor, in the nicely designed durable machined aluminium motormount. Space for additional motor-cooling available as needed.
The space for the motor allows a maximum motor-length of 70mm, which covers most widely used motors ( except for the truggy / monstertruck motors).
    
Steeringblocks assembly    
Composite steeringblocks combined with 10 dgr C-hubs  for precise steering.  Spring steel wheel-axles with large size bearings    and larger inner     with precision threaded aluminum wheel-hubs with offset  . Flanged and serrated wheel nuts to guarantee that you will not loose a wheel nut in a race.
   
Front suspension   
Durable oversized  lower suspension arms in strong composite nylon. On the lower side the special shaped downstops screws are mounted. The lower shock-mounting pins are secured with a small grubscrew from the bottom.    
   
Front anti-roll bar   
The ballraced front anti-roll bar  system, consist of a spring steel bend wire, which is guided through the diff-cases and runs in ballraced steel adaptors.  The wire is linked to the lower suspension arm, with a captured adjustable threaded pivotball, for very precise and low friction  operation and easy tuning.   
   
Shocktower and bodymounts front   
4.0mm thick aluminium anodised shocktower with 2 upper positioning holes for the shocks and and 3 holes for roll-center positions.  1 centrally located adjustable bodymount , and 2 forward mounted adjustable bodymounts.

Angled steering system / servo saver   
The bell cranks are angled to reduce the angle of difference between the total caster and steering plane. Therefore you will have less bump steer and a truer steering Ackerman through the entire range of suspension   
   
Ackermann plate   
With the design of the steering bell cranks when changing the Ackermann you will not need to adjust your steering tie rods. You simply will only need to adjust your end points on your radio..    
   
Rear suspension arms   
Durable longer oversized  lower suspension arms in strong composite nylon. On the lower side the special downstops screws are mounted. The lower shock-mounting pins are secured with a small grubscrew from the bottom.    

Mud-guards
Optional are the composite mud guards, which can mount to the lower suspension arms, and will keep dirt away from your anti-roll bars transmission and wheels.
   
Rear  uprights  assembly   
Composite uprights with 3 upper roll-center positions. Strong steel track-rods with L/R threading and strong balljoints  to pre-set camber.  Hard steel wheel-axles with large size bearings   and larger inner   ones  with precision threaded aluminum wheel-hubs with offset. Flanged and serrated wheel nuts to guarantee that you will not loose a wheel nut in a race.   

Rear anti-roll bar   
The ballraced front anti-roll bar  system, consist of a spring steel bend wire, which is guided through the rear wingmount and runs in ballraced steel adaptors.  The wire is linked to the lower suspension arm, with a captured adjustable threaded pivotball, for very precise and low friction  operation.   
   
Shocktower rear    
4.5mm thick aluminium shocktower, integrated into the rear section for extra stiffness,  with 2 upper positioning holes for the shocks and 3 holes for roll-center positions.    
   
Wingmount and bodymounts rear   
Composite rear low aero wing, with strong nylon mounts, with angle adjustment. Central rear bodymount.  
   
Captured pivot pins and balls and bolted hinge pins    
All spring-steel hinge pins are either captured or bolted in place and made in spring-steel quality.   This relieves stress on the hinge pin when adjusting the kick up, or anti squat. Your pin is free to rotate to any angle without binding.   
   
Shockabsorbers RCM big-bore 16mm   
Anodised aluminium shockbodies with durable 4mm shock-rods.  Pre-load adjuster clips for ride height setting. Shocks use  large diameter membrames and large diameter o-rings  and bushings to create a  supersmooth  and leak-proof package.  Large diameter pistons are held in place by a nut on the polished shock-rods tops. Open type spring retainer to let dirt out easy.  
   
RCM shock springs   
Colorcoded progressive shock springs are supplied for the 1st standard set-up  and all springs are grinded flat top and bottom, and checked individually for tension and length and are matched.     
     
Compact geardifferentials   
Very compact gear differentials with very smooth metal sintered gears, and steel shaft. Perfect sealing case with special gasket and o-rings.  Very light and durable outdrive cups in spring-steel.   Hardened spring-steel diff-coupler 13T with connector running in 2 oversized bearings  The Cobra-E uses a 13T / 44T combo gearing.  46T central diff gear.   This drive ratio will provide amazing acceleration combined with the low vehicle weight.
   
Front and rear drive   
The front has captured driveshafts using a CVD system. The rear has durable black steel driveshafts with hard steel pins.   
   
Hard black steel transmission parts   
The front and rear strong hard black steel cardan shafts connect the differentials .     

Body
Serpent superlow Cobra E buggy body, fully pre-painted in a very attractive design and pre-cut too.  The very low body has excellent handling, also supern in jumps.

Rear wing:
Low version strong rear white aero rear wing is included for great downforce and straight line stability.

Tyres / wheels
The Cobra is fitted with premounted DragonRC buggy racing tyres. The tyres are glued on durable but flexible DragonRC race-wheels with moulded cell-foam inserts.  A super-package for excellent grip on the most common surfaces.

Oils and grease   
Top-quality silicone shock-oil, silicone diff oil and some grease is used to meet the standard set-up.    
   
Manual and set-up   
Full color user manual with easy to follow steps, exploded views for easy spares ordering. A seperate manual for the transmitter and the speed controller is included.
   
Decals   
Black and white promo body-decals ; Serpent generic and Cobra ones.    
   
Packing   
The RTR kit is packed in a colorfull large strong packing box with protection for car and transmitter.   
   
Service and Support    
The Serpent distributor, dealer or agent is your source for more info, but also the Serpent website and  the member section and the Youtube channel provides lots of information.   
   
   
Needed to complete the car:   
-   4 x AA batteries for the transmitter
-    2 x Lipo hard-packs  3800 mA or more
-   (charging equipment/ powersupply)